Research/advocacy
The Birrarung Cultural Pathway and the Birrarung Cultural Precinct
Ongoing
The Birrarung Cultural Precinct is a proposal to create an expansive precinct linking significant cultural spaces and parklands on both sides of the Birrarung (Yarra River) from Ivanhoe to Lower Plenty, an important part of Wurundjeri Country.
The Yarra River Protection (Wilip-gin Birrarung Murron) Act (2017) sees the river as one single living entity. This understanding is a critical foundation for the development of the Birrarung Cultural Journey, which could provide an overarching design approach, resulting in enhanced connectivity, and a constellation of cultural and artistic 'nerve centres' from the river's source to the sea. It is important to emphasise that the approach to the development and delivery of the Birrarung Cultural Precinct has the potential to become a model that, into the future, could be applied to the full length of the river corridor, connecting parks and cultural assets in order to realise the Birrarung Cultural Journey.
The Birrarung Cultural Precinct proposes a
wellbeing precinct
nourishing arts, culture and tourism. This new precinct will celebratethe unique environment associated with the river. The North East Link (NEL) presents a once in a lifetime opportunity to deliver an ambitious cultural precinct of international significance, ensuring the NELsuccessfully mitigates the potential for an enormous detrimental impact on the area proposed for a cultural precinct. Importantly, the Birrarung Cultural Precinct would deliver Action 21 of the Victorian Government's Yarra River Action Plan.
Location
: Ivanhoe, Bulleen, Eaglemont, Heidelberg, Lower Plenty, VIC
Year(s)
: Development/consultation 2018-2020
Team
: Co-conceived by Maudie Palmer AO and Eugene Howard with Senior Wurundjeri Elder Aunty Joy Murphy Wandin AO
Endorsed by
: Heide Museum of Modern Art (MoMA), Yarra Riverkeeper Association Inc., Riverland Conservation Society, Anthony Carbines MP and supported by the Victorian State Government's Birrarung Council
Our submission to DELWP's Ministerial Advisory Committee (MAC) on the Draft Yarra River – Bulleen Precinct Landuse Framework Plan can be viewed
here
or
here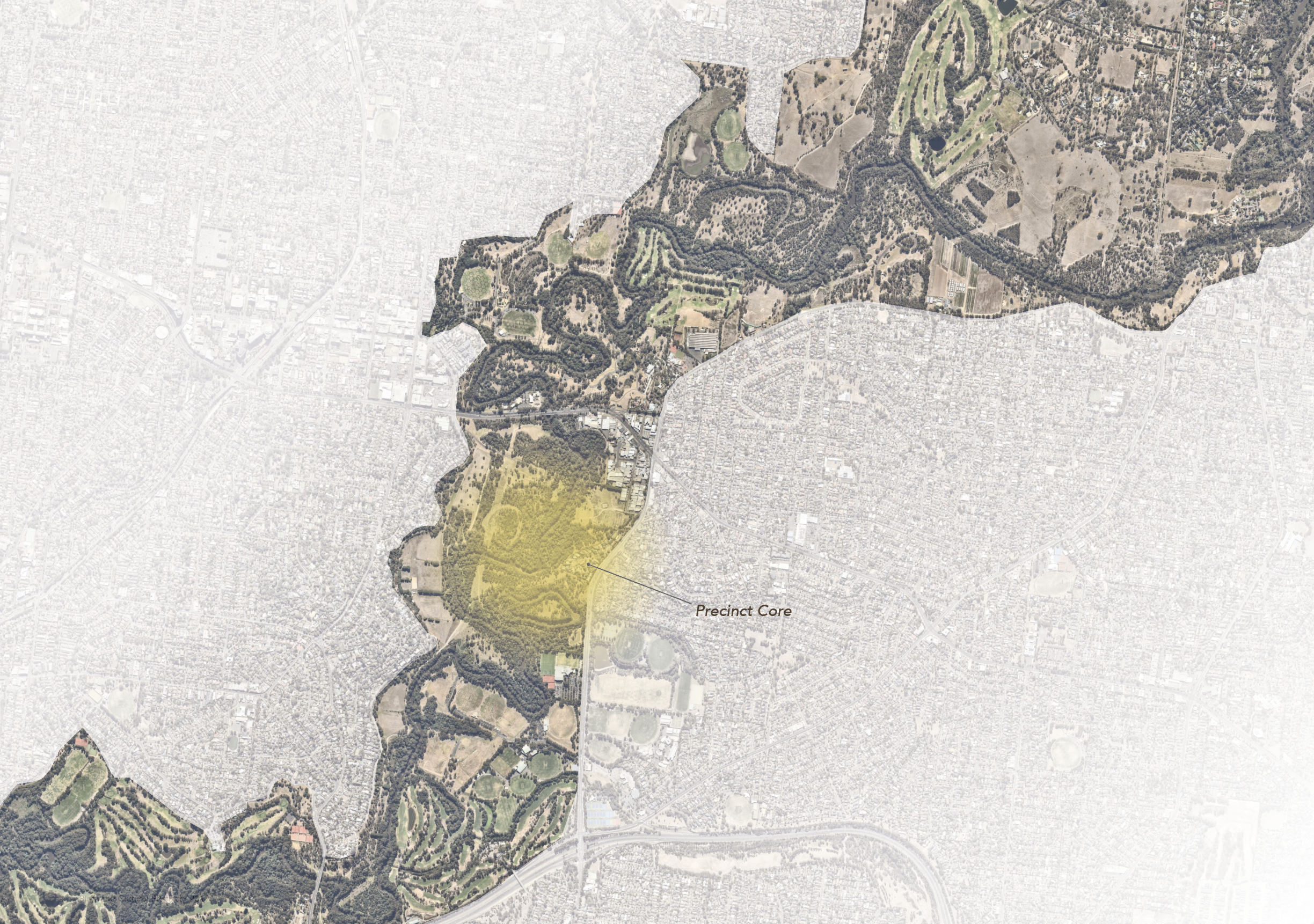 ---
Residency
Garambi Baan⋰Laughing Waters Residency Centre


Ongoing

In-development since 2017, the
Garambi Baan⋰Laughing Waters Residency Centre
will be housed in two significant buildings within a conservation reserve managed by Parks Victoria on Laughing Waters Road, Eltham. These two buildings were operated as a residency program from the mid 1990's up until the closure of the program by Nillumbik Shire Council in 2015. They are both important buildings, having been designed and built by landscape architect Gordon Ford and architect Alistair Knox, respectively. The two buildings require urgent restoration works to halt their advancing deterioration.
InPlace will deliver a responsive, multi-streamed program that will include l
ive-in residencies for independent artists and groups of all disciplines;
annual program of public talks, events, workshops and exhibitions;
residency stream for partnering arts and cultural organisations to develop major new projects and a
rts and cultural use by the Wurundjeri Woi Wurrung Corporation, including collaborative projects with InPlace.
Visit:
www.laughingwaters.org.au
InPlace ackowledges the Wurundjeri as the Traditional Custordians of Garambi Baan (Laughing Waters), we thank the Wurundjeri Woi wurrung Cultural Heritage Aboriginal Corporation for their support and partnership. We also thank Parks Victoria and Nillumbik Shire Council for their partnership and ongoing support.

---
Founding Partners
---
---
Industry Partners
---
---
Supporters

---
---
Research
Gariwerd Cultural Landscape
Ongoing
A project in development examining attempts to protect rock art and other cultural sites from damage by visitors and rockclimbers to the Gariwerd/Grampians National Park. This project sees extensive documentation by John Gollings AM, produced and curated by Eugene Howard. Gariwerd Cultural Landscape will also develop into an expanded publication. Supported by Jake Goodes, Parks Victoria's Aboriginal Heritage co-ordinator for western Victoria. Goodes is conducting incredible work preserving cultural sites and protecting them from further damage during a time of immense pressure.

Gariwerd has approximately 90% of Victoria's known rock art sites and is Djab Wurrung, Jardwadjali and Gunditjmara Country (Barengi Gadjin Land Council, Gunditj Mirring Traditional Owner Aboriginal Corporation and Eastern Maar Aboriginal Corporation), amongst others. Fantastic to be granted access to a range of sites from Mt Difficult Range, to the Victoria Range and both of the Black Ranges, including the recently re-discovered 'Bunyip Cave', over the past few months as I work on a documentation project as a producer and researcher. Also thrilling to be present for the re-discovery of some rock art, with prompt registration by Aboriginal Heritage Victoria officers who were present. More to come...

Location: Gariwerd (Grampians), Western Victoria
Artist: John Gollings AM
Partners: in collaboration with Aboriginal rock art expert for Western Victoria, Jake Goodes (Parks Victoria)
Lead curator/producer: Eugene Howard
Advisory: Maudie Palmer AO


---
Propositional
Decomposition
2017
Eugene Howard / Dylan Martorell
Sugar Gum (Eucalyptus cladocalyx), zinc coated steel, sound composition.
Public art consultant: Jeph Neale

---
Eugene Howard and Kate Hill undertook co-management of Kochi Artist-in-Residence (AIR) in 2016, undertaking professional development with Co-Directors of Kochi AIR, artists Dylan Martorell (Slow Art Collective) and Lichen Kemp. KochiAIR was in partnership with the Kochi-Muziris Art Bienalle. This was an opportunity to develop arts management skills and build on professional networks in an international art context in order to directly benefit the development of the Boorhaman Residency Program in rural Victoria. This period of time involved taking over independnt management of the program and curation of an exhibition of participating artists works at 'Pepperhouse' in Kochi.