Plein air
plein-air
plɛn ˈɛː,French plɛn ɛʀ/
1. designating, of, or in the manner of certain schools of French impressionis painting of the late 19th cent., engaged mainly in representing observed effects of outdoor light and atmosphere 2. C19: from French phrase en plein air in the open (literally: full) air
Location: Mr Kitly Gallery, Melbourne, Vic Curator: Bree Claffey Year(s): 2017
Participating artists: Andrew Seward; Kate Hill; Pia Murphy; Mary Tonkin; Mick Turner; Paul Williams Welcome to Country: Aunty Bette Cherry, Pbangerang Elder Supported by: Australia Council for the Arts, Creative Victoria (VicArts), the Besen Family Foundation, Australian Cultural Fund, Rural City of Wangaratta Council
Location: Pbangerang (Warby) Ranges, NE Victoria
Place, environment and care underpin this practice, painting acts as one of the simplest, most potent ways to engage with these notions, particularly through open air landscape painting (en plein air).

Painting in the open is relevant and powerful as a unique way to dedicate time to learning place. The act of sitting and travelling the landscape with one's gaze reveals much about the way places operate and exist, whilst illuminating our own position in the landscape, dislodging anthropocentric mindsets and habituating constant appraisal of our agency in the 'scheme of things'.

The colonial lineage of this gaze is real and present, a lineage which includes historical practices of utilising painting as a tool for surveying land as a method to interpret the environment for Imperial gain. Folding open air painting into a contemporary practice demands deep consideration of what/how we paint and the slippery slope into nostalgia and romanticism. Yet, I see incredible value in deploying this method for 'painting place' as a way to grow a deeper knowing of place, whilst subverting colonial tools of the past into a method for engendering an ethic of care and genuine connectedness to place.

This exhibition took place on Wurundjeri land and I pay our respects to Elders past, present and becomming, whilst acknowledging that sovereignty has never been ceded. These paintings were made on PBangerang and Yorta Yorta land, thank you to Uncle Freddy Dowling for guidance with titling and permissions to use PBangerang language.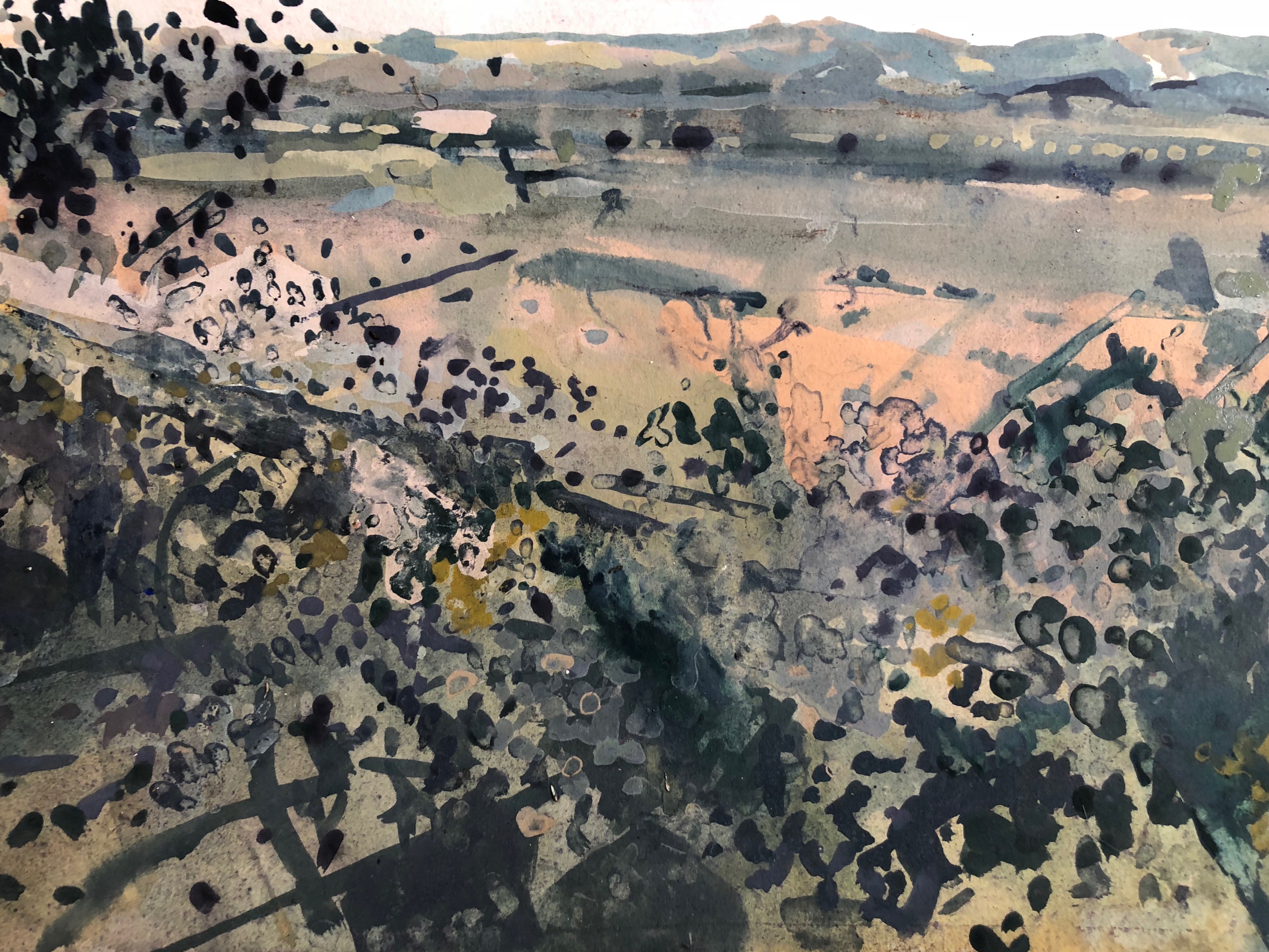 The Ovens (Torryong) valley from the Warby (PBangerang) Ranges I, 2017
Watercolour and mineral pigment on paper , framed
40.5cm x 32.5cm
The Ovens (Torryong) valley from the Warby (PBangerang) Ranges II, 2017
Watercolour and mineral pigment on paper, framed
40.5cm x 32.5cm