Garambi Baan/Laughing Waters
February 2020
Documenting the houses at Garambi Baan/Laughing Waters with photographer John Gollings AM.
June 9 1953
Hamilton Gallery.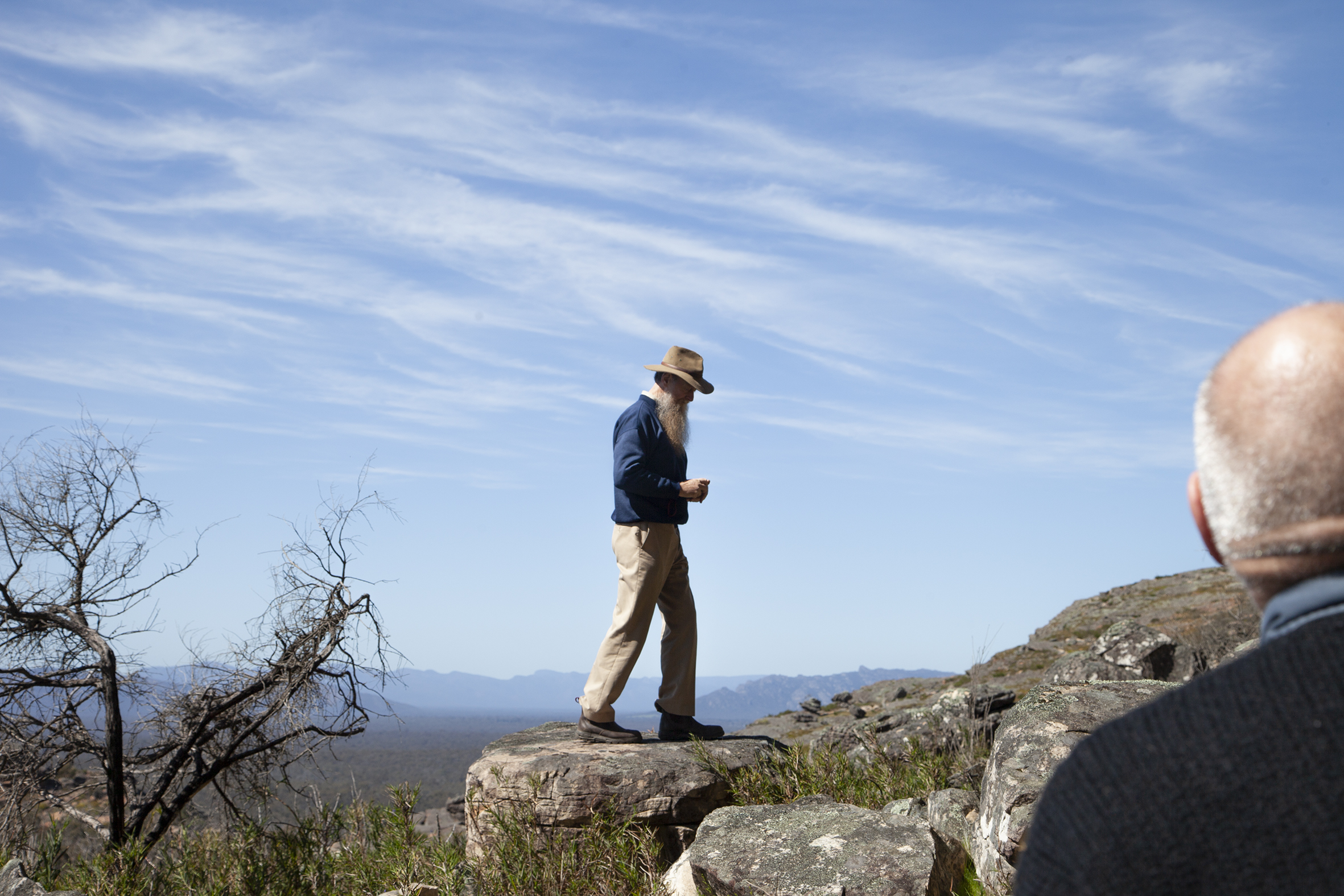 Birrarung (Yarra River) Catchment

June 11 2019
Yarra Ranges, 2019
December 9 2019

For Maudie Palmer AO and Eugene Howard, a new exhibition of artists in Western Victoria acknowledges the important role of craft in the lives of female artists.
Having been appointed co-curators and strategic consultants of Hamilton Gallery in Victoria's Western Districts in September 2019, Eugene Howard and Maudie Palmer AO were required to conceptualise a suite of exhibitions with very little lead time, due to the sudden departure of the former Director of Hamilton Gallery. A number of curatorial premises for exhibitions arose from conversations and ideas that had been simmering for some time, and from opportunities that have presented themselves along the way (stay tuned for our upcoming exhibitions at Hamilton Gallery in 2020).
This exhibition, A Stitch in Time (which runs from 30 November – 16 February 2020) emerged from a desire to bring together a range of contemporary artists working across an array of craft-related techniques. All of the artists included in A Stitch in Time are artists who Maudie Palmer had wished to curate into an exhibition for many years, however, had not had the opportunity to curate a major exhibition of to-date. These artists are unified by a shared passion for craft, deploying these practices in a rigorous contemporary framework. This was an opportunity to gather these artists in the same room and explore the material and conceptual conversations between their works.
For A Stitch in Time it was important that a number of these artists held a particular significance to the region of Western Victoria and the rich craft traditions the district has witnessed over time, hence the inclusion of artists local to the region and representation of Gunditjmara arts and culture in the work of the prominent Gunditjmara Keerray Woorroong artist, Vicki Couzens.
Maudie was particularly interested when growing up in the craft practices of women in the 50's and 60's, witnessing her mother doing stitch work as a means of escape, solace and artistic expression. Stemming from these early observations as a child, Maudie has carried with her a reverence for craft practices and a closely held belief that they should be firmly implanted into "high art" and contemporary practice.
During an esteemed career working in the arts in Australia, Maudie witnessed the rise of craft and the changing perceptions towards craft practices. She began to recognise the ways in which women, in particular, deployed these techniques and processes, observing the profound social and political force behind the use of these forms of making, coupled often with deeply held personal and cultural connections.
Maudie's own experiences at art school around the denigration of craft as being inferior and the sexism associated with this helped to stoke a desire to mount this exhibition and underscore the elevation and relevance and of this work today.
For further information and the online catalogue for A Stitch in Time, please see
here
.
A Stitch in Time is curated by Maudie Palmer AO & Eugene Howard. It includes works from Fiona Abicare, Vicki Couzens, Marion Manifold, Sanné Mestrom, Sally Smart, Kylie Stillman and Louise Weaver. Maudie Palmer AO and Eugene Howard are currently co-curating exhibitions at Hamilton Galley from September 2019 to February 2020.
This post is written by Eugene Howard in conversation with Maudie Palmer
Assembly, (Performance)
2019 by Sally Smart, Digital print on satin with collage elements (textile and hair) 275cm x300cm
Fiona Abicare, Serpentine moon lounge for Roberto (2019), Seaspray Cavalli, timber frame, upholstery foam/dacron 3000 x 1500 x 910 mm
Budj Bim Cultural Landscape Site Visit

August 2019
"The Budj Bim Cultural Landscape is at the heart of Gunditjmara country. At around 30,000 years old, Budj Bim (formerly known as Mt Eccles) is Victoria's youngest volcano and the site of the revelation of an ancestral creation being of Gunditjmara country.
The resultant lava flows over the past 30,000 years were cultivated by Gunditjmara peoples to engineer one of the world's oldest freshwater aquaculture systems to farm and harvest Kooyang (short finned eels) and other fish. Alongside the traditionally engineered aquaculture systems, Gunditjmara clans established villages along the Budj Bim Cultural Landscape by building clusters of stone houses.
Following this immense history and heritage of sustainable development through cultural tradition, beliefs and practices, the Gunditjmara and the
Winda-Mara Aboriginal Corporation
partnered together to establish the Lake Condah Sustainable Development Project." (Gunditj Mirring Traditional Owners Aboriginal Corporation website, accessed: 16/04/2020)
2017
Outcomes of Boorhaman Residency Program

Wangaratta Art Gallery, Victoria
2018
A curated exhibition by Kate Hill and Eugene Howard building on the Boorhaman Residency of Spring, 2017.
Boorhaman Residency Project took place during the Spring of 2017 and is a project devised by artists Kate Hill and Eugene Howard, the directors of Residency Projects. This project has an overarching emphasis on how art practices can intersect with place, communities and environments to uncover a deeper level of understanding and connectedness.
The Boorhaman Project took the form of an artist-in-residence and project commission, with artists Chaco Kato and Dylan Martorell living and working in the small rural town of Boorhaman. Both artists responded to different site-specific elements through their works, and worked with community members through the delivery of workshops which contributed to the final project outcome, exhibited at Wangaratta Art Gallery in 2017.
http://wangarattaartgallery.com.au/outcomes-of-boorhaman-artist-in-residence-project/