2017
Plein air
Mr Kitly, Victoria
Plein air
plein-air plɛn ˈɛː, French plɛn ɛʀ/

1. designating, of, or in the manner of certain schools of French impressionis painting of the late 19th cent., engaged mainly in representing observed effects of outdoor light and atmosphere 2. C19: from French phrase
en plein air in the open (literally: full) air


Place, environment and care underpin this practice, painting acts as one of the simplest, most potent ways to engage with these notions, particularly through open air landscape painting (en plein air).

Painting in the open is relevant and powerful as a unique way to dedicate time to learning place. The act of sitting and travelling the landscape with one's gaze reveals much about the way places operate and exist, whilst illuminating our own position in the landscape, dislodging anthropocentric mindsets and habituating constant appraisal of our agency in the 'scheme of things'.
The colonial lineage of this gaze is real and present, a lineage which includes historical practices of utilising painting as a tool for surveying land as a method to interpret the environment for Imperial gain. Folding open air painting into a contemporary practice demands deep consideration of what/how we paint and the slippery slope into nostalgia and romanticism. Yet, I see incredible value in deploying this method for 'painting place' as a way to grow a deeper knowing of place, whilst subverting colonial tools of the past into a method for engendering an ethic of care and genuine connectedness to place.

Curated by Bree Claffey

Participating artists: Andrew Seward; Kate Hill; Pia Murphy; Mary Tonkin; Mick Turner; Paul Williams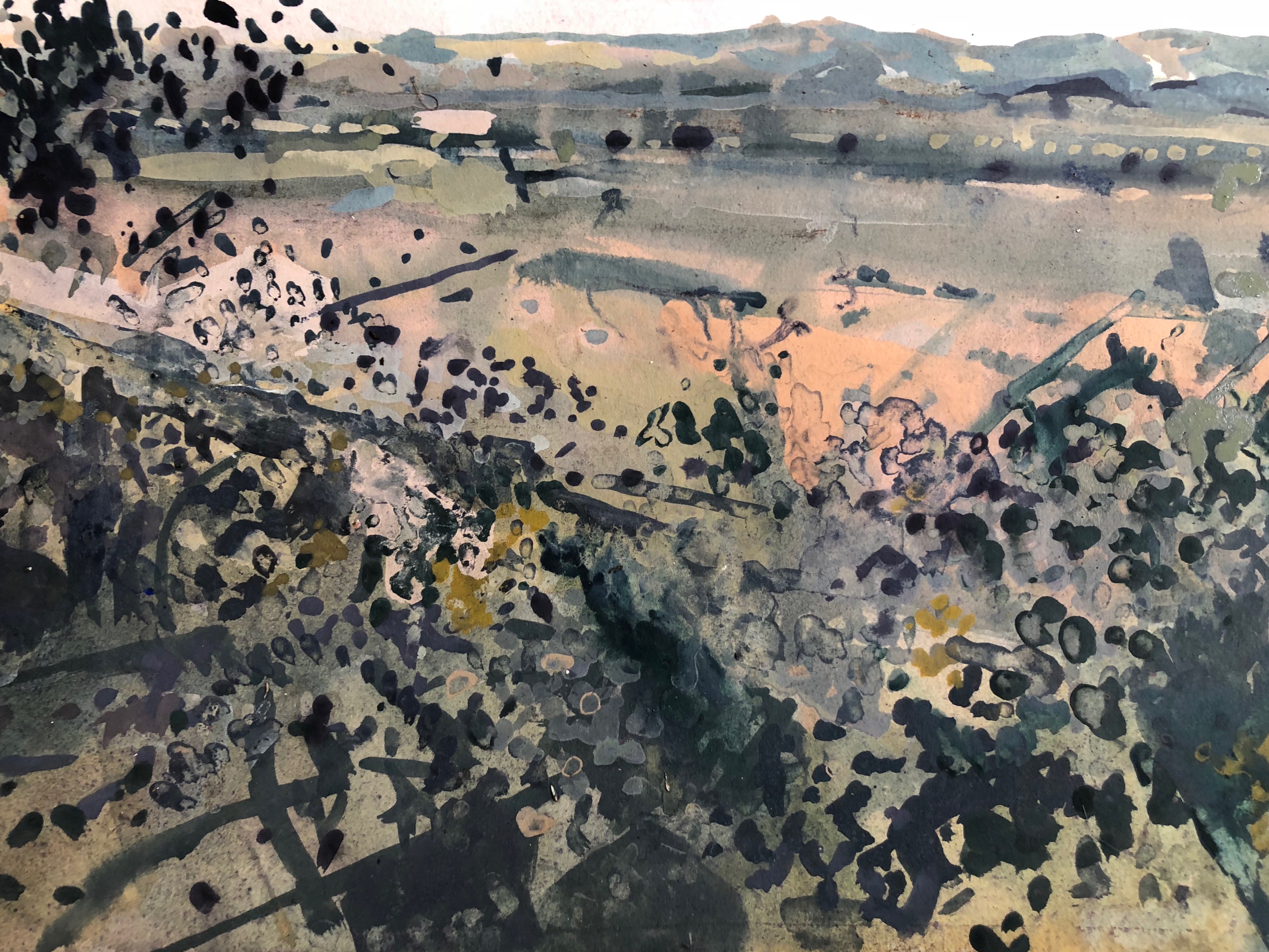 The Ovens (Torryong) valley from the Warby (PBangerang) Ranges I, 2017. Watercolour and mineral pigment on paper, framed. 40.5cm x 32.5cm
The Ovens (Torryong) valley from the Warby (PBangerang) Ranges II, 2017 Watercolour and mineral pigment on paper, framed. 40.5cm x 32.5cm
These paintings were made on PBangerang and Yorta Yorta land, thank you to Uncle Freddy Dowling for guidance with titling and permissions to use PBangerang language.
---
2019

Teapots

Craft Victoria
An ongoing collaboration with Yoko Ozawa. This exhibition saw three seperate handles made from fallen Eucalyptus to fit three of Yoko Ozawa's teapots, also glazed with Eucalyptus ash.

"From the elaborate to the minimal – this showcase at Craft presents the teapots of over fifteen contemporary craftspeople working across a diversity of discipline.

Whether functional or sculptural, each teapot possesses its own identity. Appearing across many cultures throughout the centuries, this well-known form has seen numerous interpretations and has left an indelible mark on the history of the world. While tea itself has been consumed for centuries, the teapot as we know it today is much more modern." (Craft)


---

Clunes Ceramic Award - The Recognition Awards
Full, 2019

This work 'Full' contains a rich, ambiguous quality, with the space inside the teapot holding possibility and meaning, not simply 'nothingness'. In this way this work relates closely to the concept of Yohaku: resulting in an enhanced apprehension of the world and our own mind.


Stoneware, ash glaze
Wheel thrown
h 24cm x w 20 x d 20

---
2017

Gardening is not a rational act
C3 Gallery
Abbotsfrod Convent, VIC
These works emerge from an ongoing process of utilising practices of
gardening
and
care
to inform creative processes.
Having moved into a rental property in 2013 with just a dry lawn and some roses, I received permission to create a garden. Over the following five years I grew a mixed edible/ornamental garden of introduced species including 'weeds', vegetables and fruit trees, with both indigenous and native species too. This garden became a place to engage gently, through the handling of the garden, with ideas around history, material ethics, temporality, seasonality and control; it was a 'studio'. This process also functioned to sustain an ever growing ecology (including ourselves) with food and habitat. Three months ago however the property owners gave us notice to vacate, they are selling the property and I was to erase the entire garden, returning it to level with nothing but half a dozen roses. This project for Gardening is not a rational act is the final work from this garden, all of the plants that could not be transplanted have been turned into mulch and isolated briefly for this exhibition only to be returned soon into the cycle of a new garden. This garden was, I think, seen as distracting from the monetary value of the property, somehow I had contaminated this realestate with the foreign entity of 'nature'.
The second component contributed to this exhibition is a space for a collection of tools to be exhibited. Some tools loaned from the Wurundjeri Land Council to foreground the 65,000+ year Indigenous inhabitation of this country and acknowledge the Wurundjeri of the Kulin Nation upon whose lands this exhibition takes place (specifically the presence of the Wurundjeri Land Council at the Abbotsford Convent), fellow artists within the show and the gardener at the Abbotsford Convent.
Included in the publication accompanying
Gardening is not a rational act
is the below text written by Bruce Pascoe and generously contributed to the exhibition. This text looks at cultivation and bread making from Kangaroo grass and the colonisation of what is now called 'Australia'.
"Gardens have always been a place of philosophical contemplation and creative thought: from the famous gardens of Athenian philosopher Epicurus in 306 BC, to the Garden of Earthly Delights painted by the early Netherlandish master Hieronymus Bosch. The process of gardening shares many parallels with the process of art-making; process through trial and error, consideration of colour, texture and composition and the creation of a complete, shared environment. The garden is also literally a site of digging up history, highlighting politics of place and activity 'on country', both indigenous and introduced. To mark the start of Spring in the Abbotsford Convent gardens, ten contemporary Melbourne artists who share a love of growing things will take over four gallery spaces of c3. Together, their works will explore the act, aesthetics and the outcomes of planning, nurturing, documenting and reaping what they sow. "Gardening is not a rational act," the writer Margaret Atwood wrote. "What matters is the immersion of the hands in the earth, that ancient ceremony of which the Pope kissing the tarmac is merely a pallid vestigial remnant. In the spring, at the end of the day, you should smell like dirt."

Tai Snaith
---
Baker's Dozen
COUNTER
©Bruce Pascoe 2017
How many baker's does it take to make a nuisance of themselves?

Well last summer we had three bakers, two food scientists, two photographers, three dogs and two besieged house owners.

To harvest kangaroo grass you need hot weather and someone who knows what they are doing. All we had was the hot weather.

We had been researching some of the old people's traditional food plants and we were revved up to tackle the kangaroo grass. The summer before we hand harvested an area of grass on the local airport and ground the seed into flour and baked a loaf of bread for Ben Shewry of Attica restaurant, Melbourne. He was a bit over excited because we'd been out fishing on my home stream, the great Jinoor (these days Genoa) River, we'd had a couple of beers and he'd caught his first fish. He loved the bread and ate many slices. Which we thought might have been for breakfast.

It reminded me of Charles Sturt's 'exploration' party in 1843 who were saved from starvation by 400 Aboriginal people in Sturt's Stony Desert who gave them water and fed them roast duck and cake, a cake which Sturt declared was the lightest and sweetest he'd ever tasted. Now we know that Pom's can't cook so when they're dying of starvation they may be inclined to exaggerate the quality of any food they are given, but it still surprises me that in a country with 500 cooking shows in the media we still don't know the grass from which those people made the grain to make that light and sweet cake.

Maybe it's because we cannot afford to look at the agricultural economy of a people from whom we stole the land and justified that theft to our Christian selves by saying the Aboriginal occupants were a low species of life who knew nothing about growing their own food and therefore didn't really own the land.

Anyway, despite that small omission from our country's history for the last 220 years, a baker's dozen of us gathered last January to harvest kangaroo grass, thresh it and grind it into flour and bake a few loaves. The baking was the easy bit because everyone in the room knew how to make bread, although the blue heelers were a bit scratchy, but for the rest of it we were working off a modicum of traditional knowledge and a thousand aberrant suggestions, the more aberrant the emptier the bottles became.

But our bread was aromatic as all heaven, had a wonderful texture and rich deep flavour. One baker started talking about the wonderful crumb but we thought there was plenty left and kept eating.

We are sampling other grains, other harvesting methods and other milling techniques but the certainty is that the grains Aboriginal people domesticated 30-40,000 years ago will become sensations in Australian and International cuisines.

We just have to get over the refusal to acknowledge how we came by the land, because you can't eat our food if you can't swallow our history.
– Bruce Pascoe is a Yuin, Bunurong and Tasmanian man whose 2014 book, Dark Emu, Black Seeds won the NSW Premier's Book of the Year in 2016 and has been reprinted thirteen times.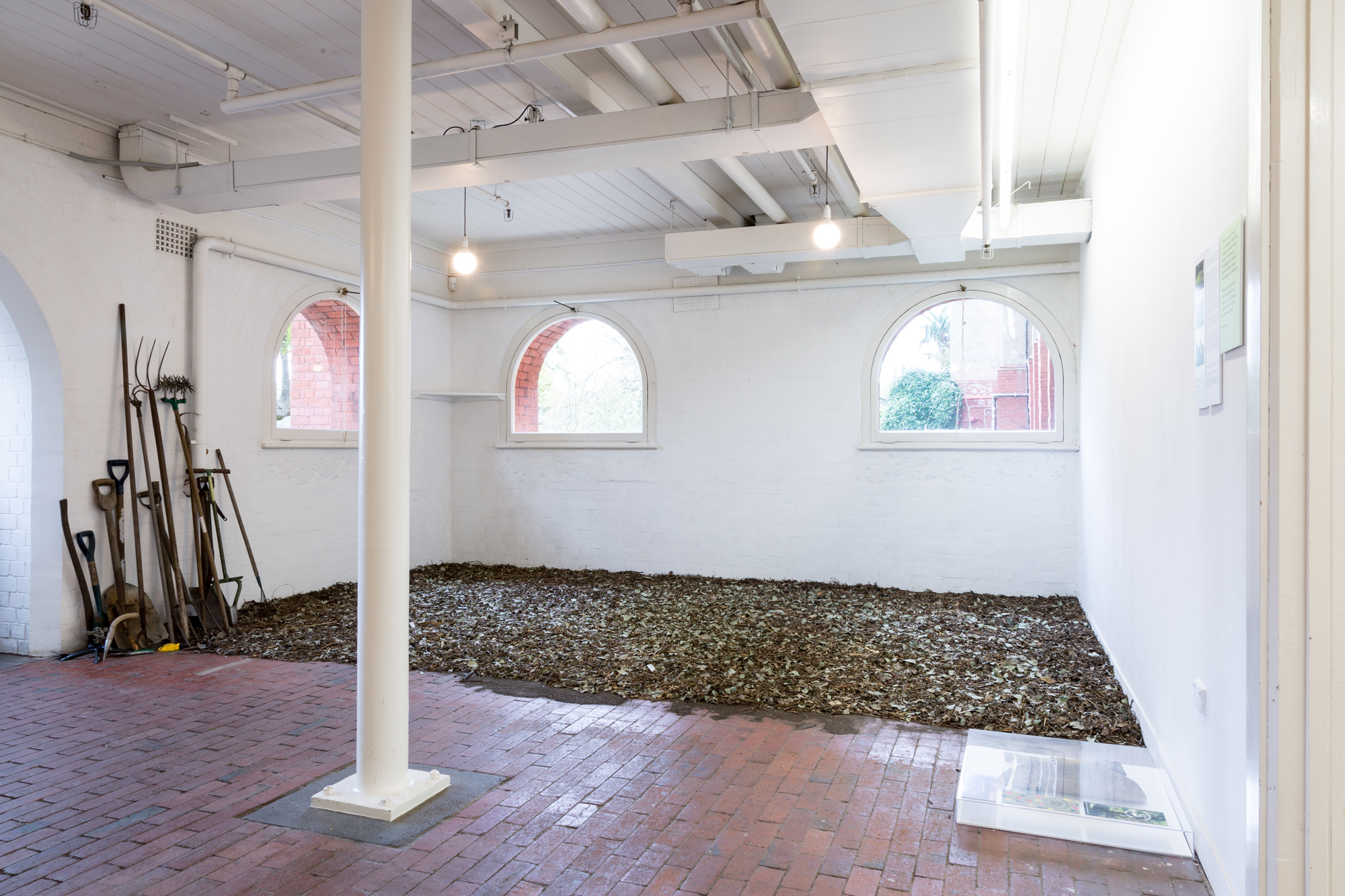 Curator:
Tai Snaith
Participating artists
: Eleanor Butt, Kent Wilson, David Rosetzky, Kate Daw, Kate Ellis, Eugene Howard, Chako Kato, Tai Snaith Sean Meilak and Alice Wormald
Welcome to Country:
Uncle Ron Jones, Wurundjeri Elder
Supported by
: Australia Council for the Arts, Creative Victoria (VicArts) and Abbotsford Convent Foundation
Many thanks to the Wurundjeri Land Council, the Abbotsford Convent gardener Simon Taylor and to Bruce Pascoe for generously providing the important text below. We acknowledge the unceded lands upon which this exhibition takes place as those of the Wurundjeri people of the Kulin Nation, we extend our respect to Elders both past, present and emerging This project is supported by the Victorian Government through Creative Victoria program and the Abbotsford Convent Foundation.
---
This is the garden I spent one year practicing out of in the place of an artist studio within the University of Melbourne. The resulting artwork from this project was the early summer garden and a live video stream of it. This depicts a whole day of activity in the garden; documenting actions of care and labour to sustain the garden-whole.

This project continued on from three years of accepting un-wanted by-products from other creative practices and incorporating these materials into the garden. To-date the garden has absorbed clay, soil, rock, plants, bricks, paper recycling, sand, wood, cloth and bamboo. To see the subsequent project that resulted from the sale of our rental property please visit: Abbotsford Convent C3
Media: Live HD video stream (weather dependent)
HD Video (excerpt); Captured on 21/11/16 and exhibited as part of the VCA Graduate Honours exhibition
Supported by: Victorian College of the Arts, University of Melbourne
---
2015
Oharai, meaning ceremony, refers to the Japanese tradition of Jichinsai, a ritual carried out to bless land before altering it. Jichinsai involves a series of actions including partitioning the intended land to be worked upon (through construction etc) by bamboo and rope made from rice straw, and the offering of gifts such as sake, rice and salt. The partition is left until the land is worked on.

Carrying over from Kate Hill's work in Japan and Australia involving digging, refining and processing local clay, and Eugene Howard's work around landscape and layering through works on paper and examinations into gardening practices and care, Oharai offers traces of a Jichinsai ritual performed by the artists and friends in Hokuto, Yamanashi, on an artist residency - prior to and in retrospect to, the act of digging.This work encompasses a video of the performance, a series of soil on paper drawings mapping the process of digging through layers of earth, and a collection of works from rice straw, each piece a temporal still in an attempt to make rope.

お祓いとは、ある土地を活用する前に、その土地に感謝を込め祈る宗教的な日本の伝統である。ケイト ヒルが日本とオーストラリアで手がけてきた、地元の土を、掘る、磨く、加工すること、ユージン ホワドが興味を示す、風景を何層にも描く事– 山梨県は北杜市のアーティストや、その友人により、地鎮祭において宗教的なお祓いを垣間みることができた。

肥沃な畑の土、火山灰層の土、水田の土、六つの種類の土を採取する工程は、シリーズとして紙に描きマッピングされた。それぞれの土の種類は、稲穂から作られた作品に見受けられ、それは稲穂を使って縄を作る際に、用途に応じ使い分けることができた。

田舎で生み出された作品、それを都市へと移すことで、土地の活用において二つの意味合いを持たせることが可能になった。それは、ある特定の地理的観点から見えてくる、建造と伝統、ということであった。


Oharai was made at Chemin du Bonheur Artist in Residence program, Yamanashi, Japan. Components of the work were shown as part of a group exhibition, 'First Thought, Best Thought' at SpaceSpace gallery, Tokyo, in July 2015.


The below documentation shows a small exhibition held in Yamanashi at the completion of our collaborative residency. The paper works document the process of digging, after the Jichinsai (ceremony): each layer of earth was piled on a fresh piece of paper in a circle around the hole, the earth was then placed back in the order in which it was extracted after a small handful of workable clay was taken from the hole. These papers are stained with the colour of the shifting strata, poetically archiving the act the of digging earth and serving as a visual expression of geological time.

Text and translation written by Kate Hill:


http://www.kateehill.com/oharai



Video: Eugene Howard
Participating artists: Kate Hill, Eugene Howard
Media: Paper, soil, rice, straw, video
紙、土、稲穂
Supported by: Chemin du Bonheuer Residency ケイト ヒル + ユージン ホワド
2015
First Thought Best Thought
Tokyo, Japan. Space Space Gallery,
Participating artists: Isadora Vaughan, Alice McIntosh, Kate Hill and Eugene Howard
Curator: Alice McIntosh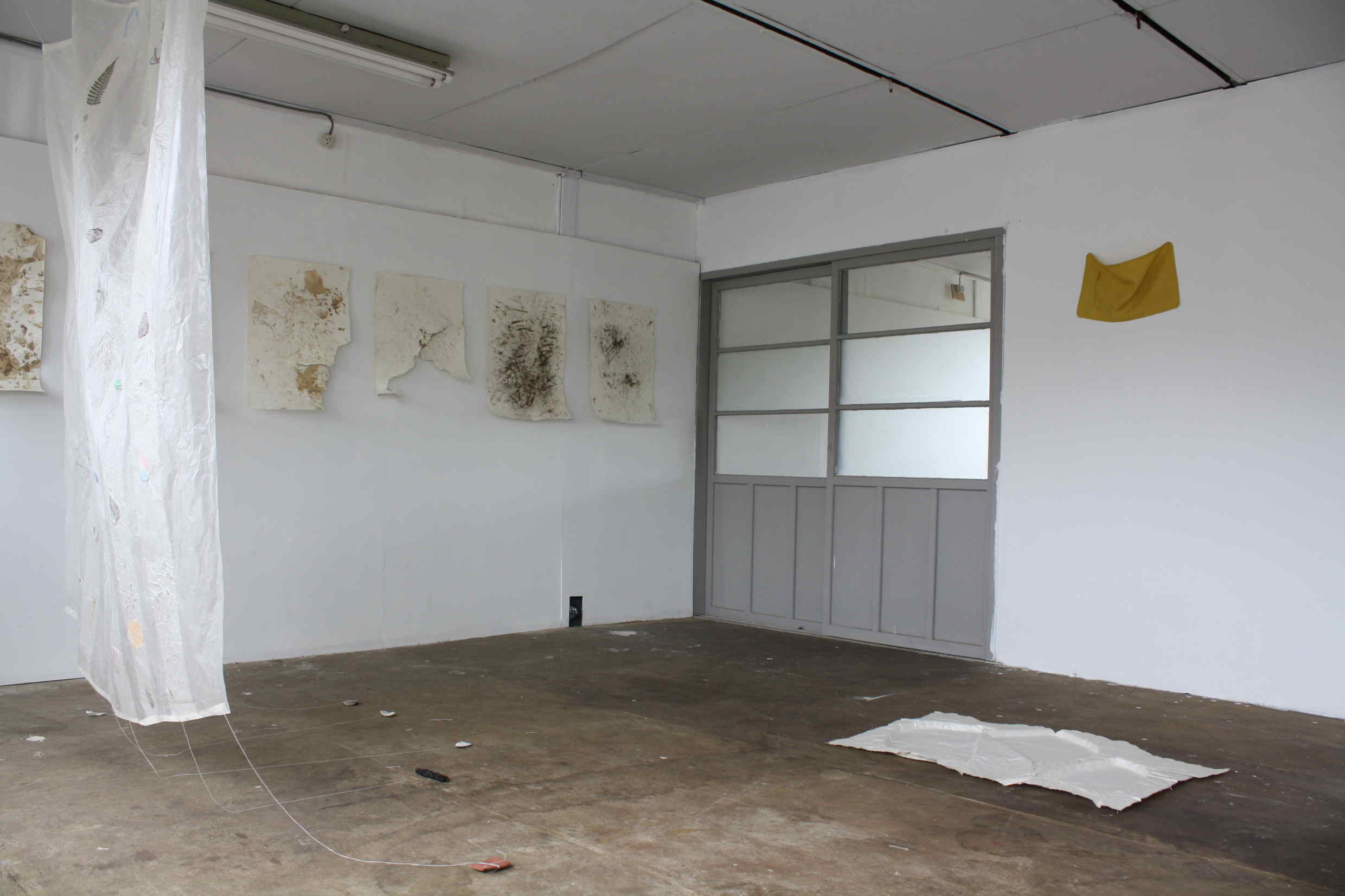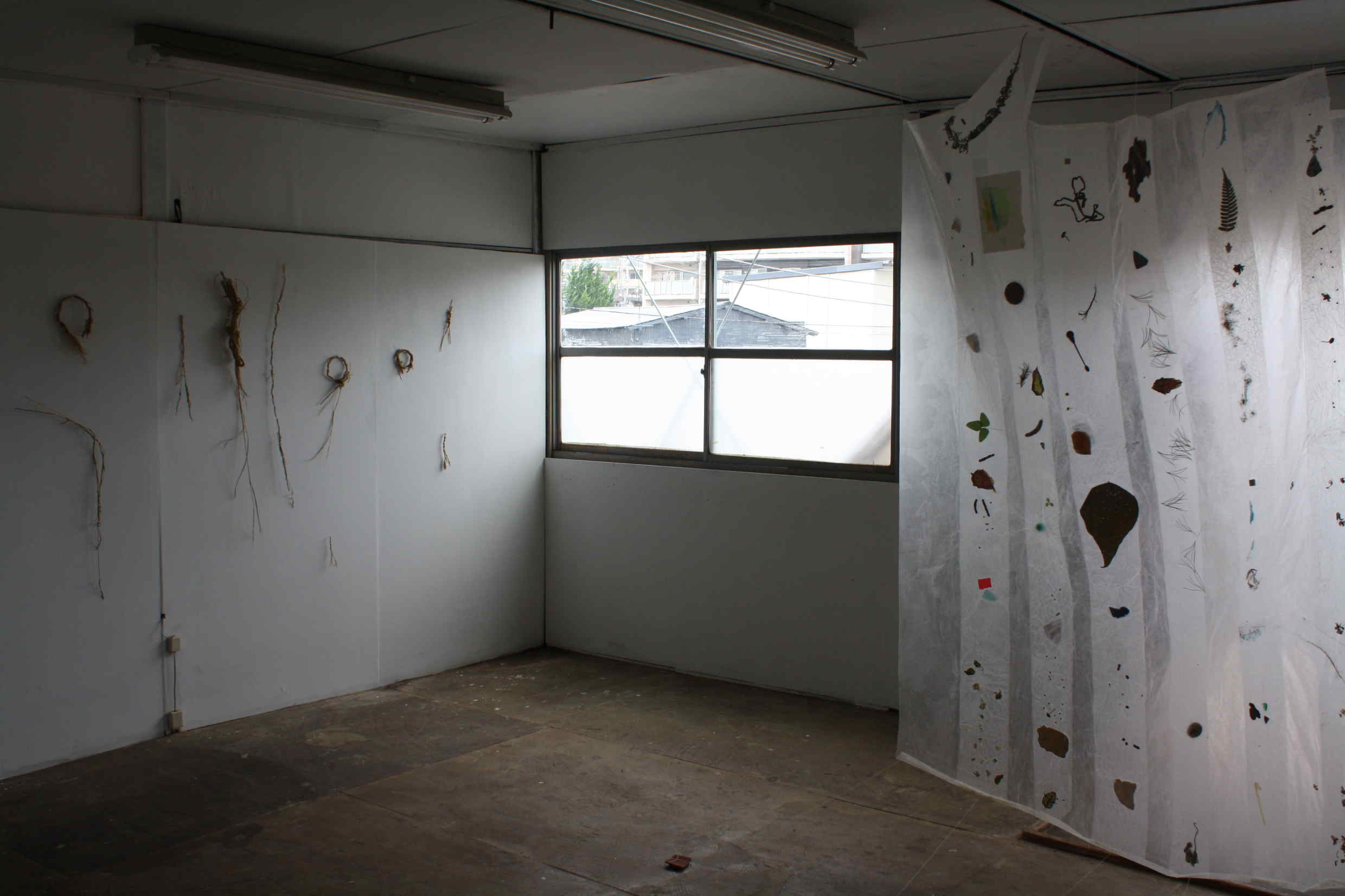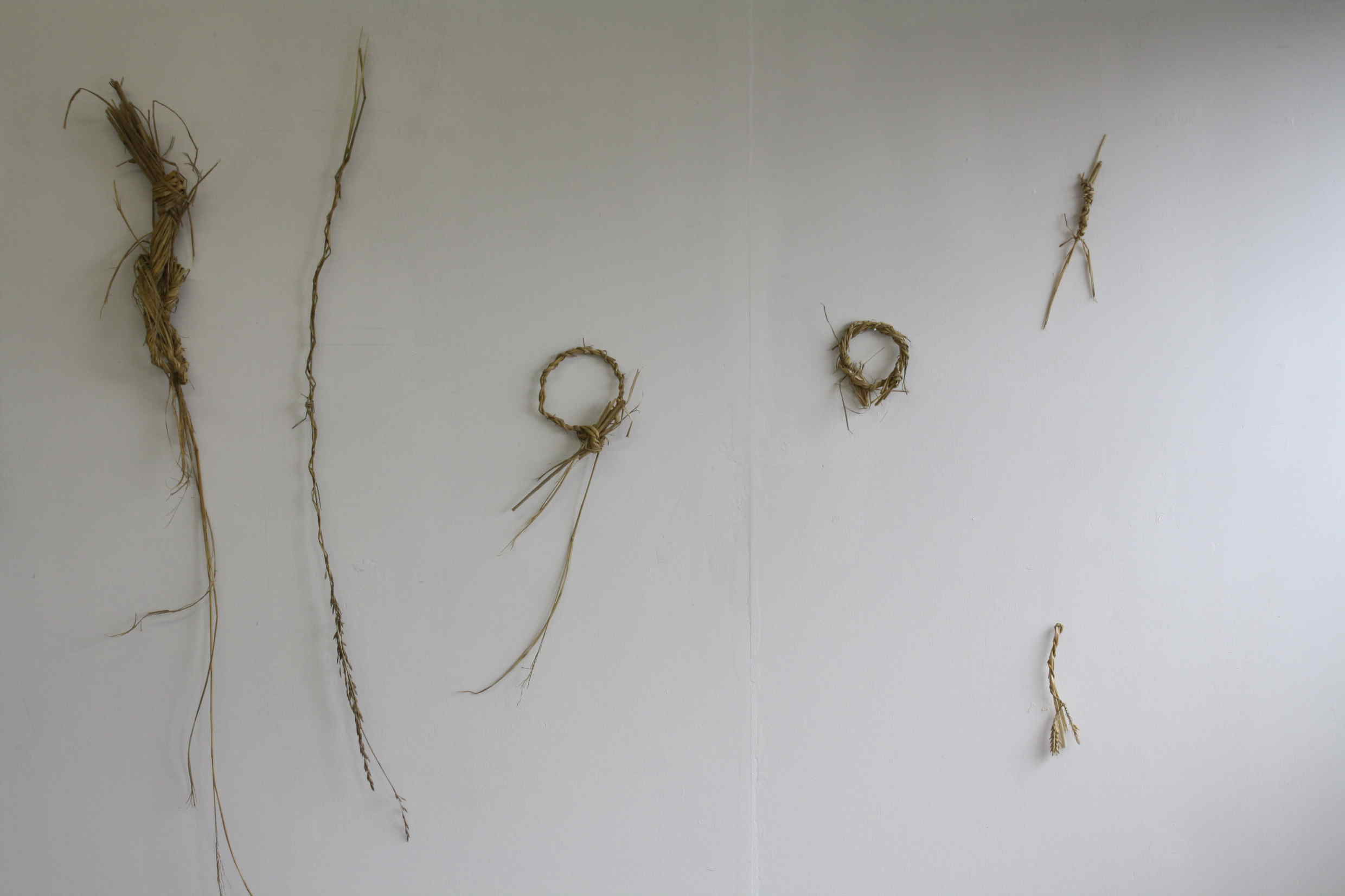 ---
2014
Painting with Weather

Testing Grounds no. 1 City Road, Southbank, Vic
Around 100 small watercolour paintings made daily outside in Southbank, at the foot of Arts Centre Melbourne, in all weather conditions at no. 1 City road across a two month residency at Testing Grounds.

Media: Watercolour and rainwater on paper
This project has been assisted by the City of Melbourne.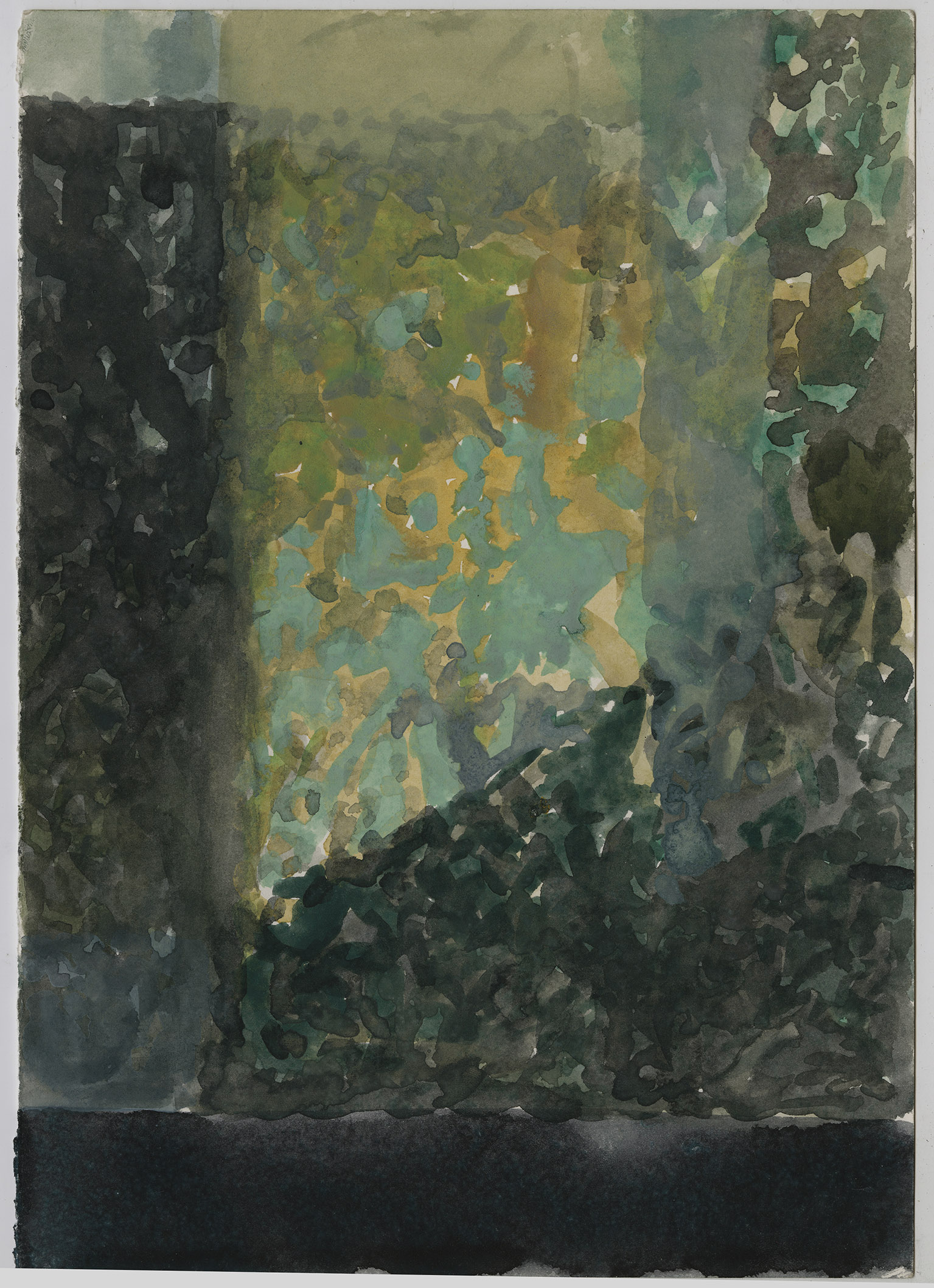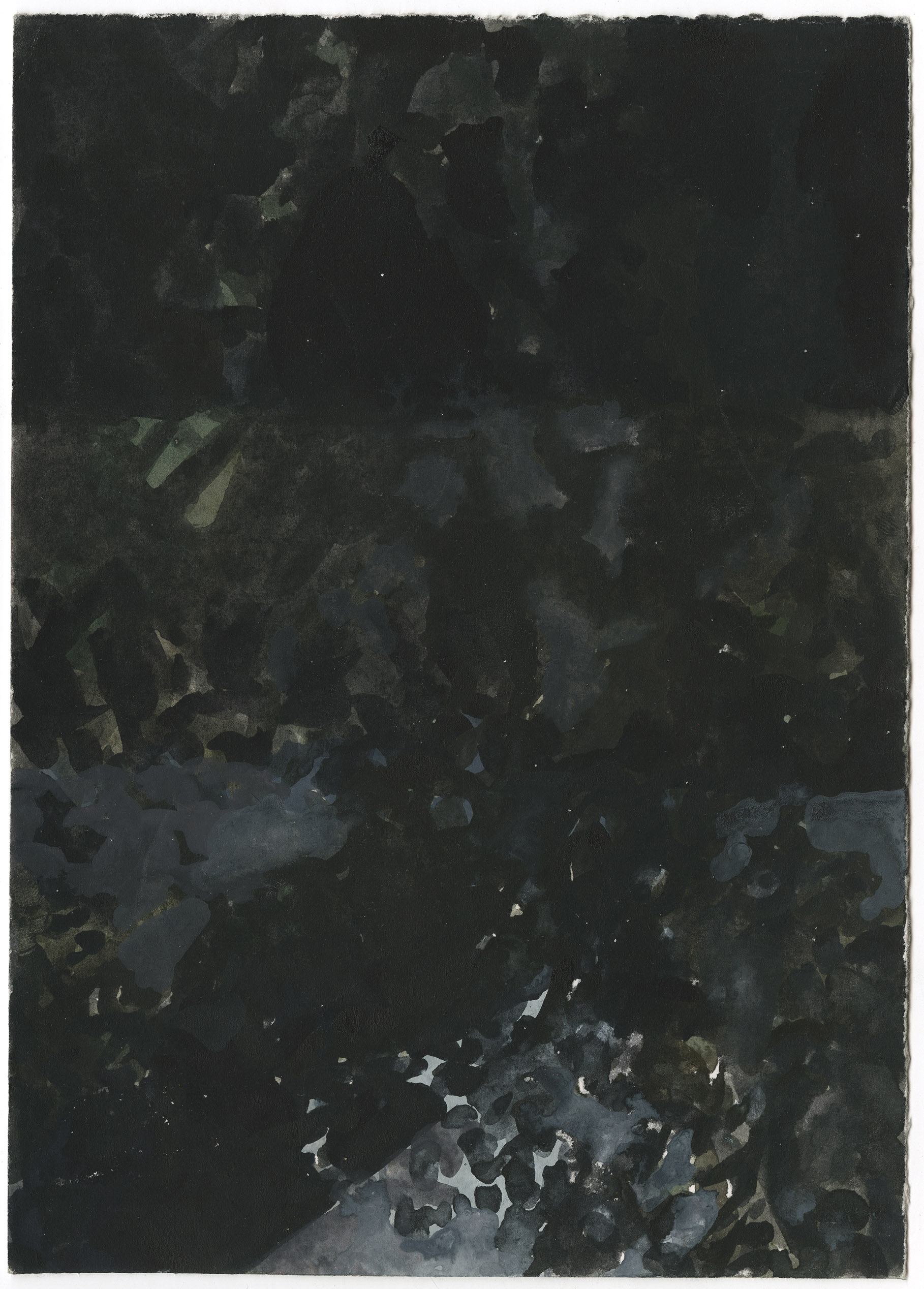 ---
2014
Mutawintji Sketches
David Lancashire Design Gallery
A collection of journal paintings looking at the unique environment and landscape of Mutawintji National Park. These works look to perceptual painting as a powerful mode for nourishing connection, understanding and belonging to place through time spent looking. Exhibited with Julia White and Rebecca Harris as part of the exhibition Paintings. I acknowledge and pay my respects to the custodians of this country, the Barkindji, and thank them and their Elders for years of walking and generous sharing of country and knowledge.

Participating artists: Julia White, Rebecca Harris
Media: Watercolour and ochre on journal paper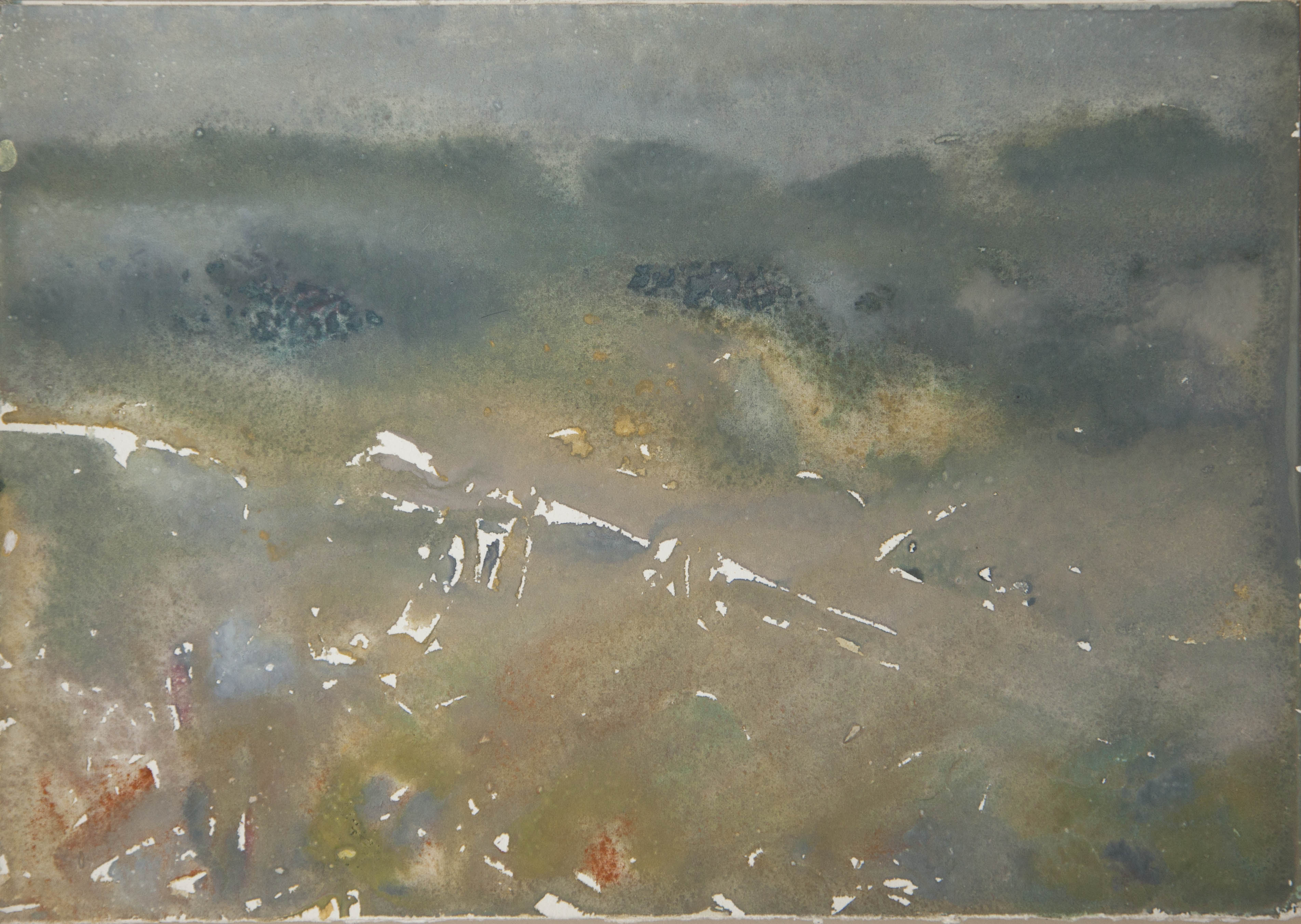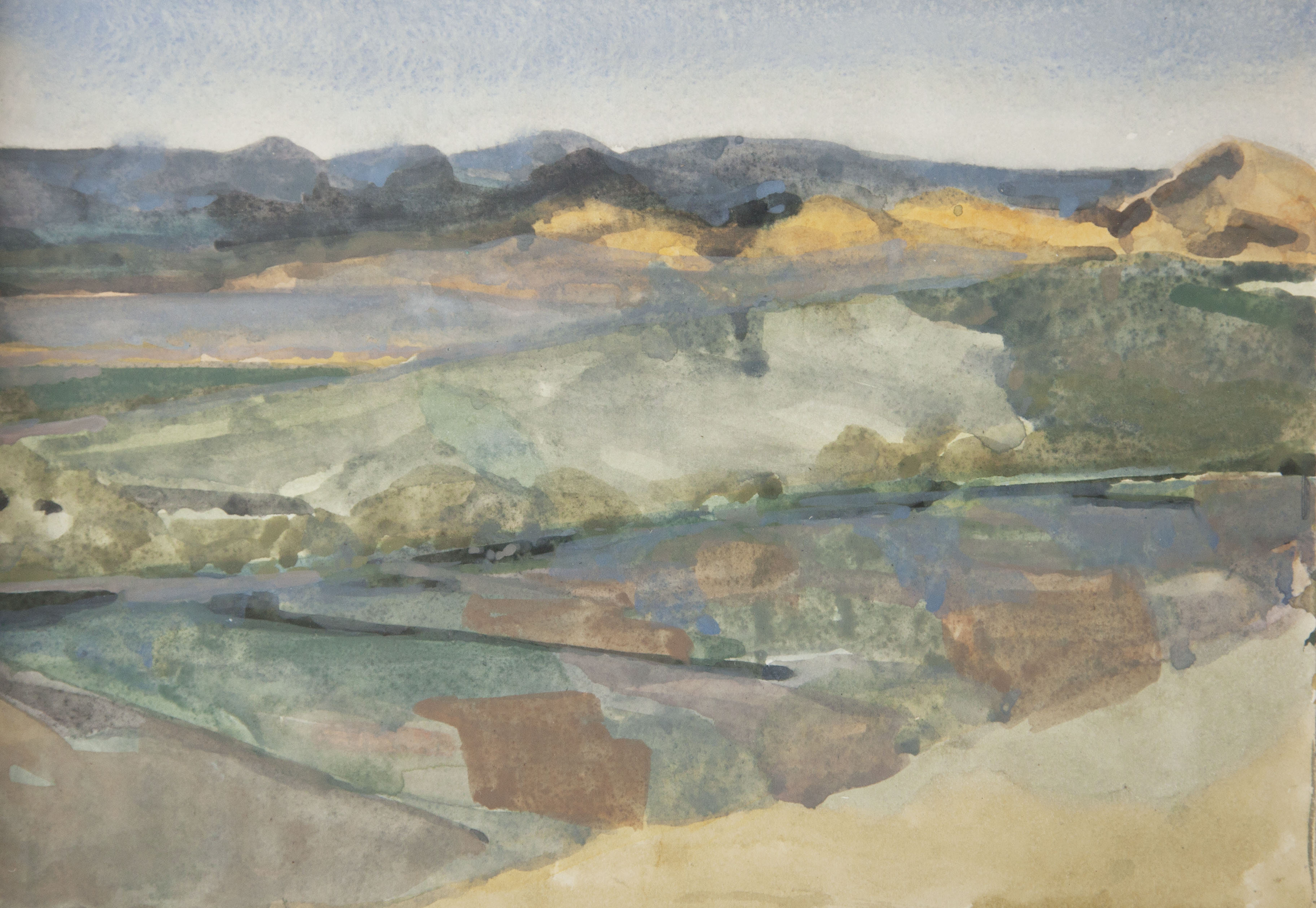 ---
2015
Hand to Mouth
Mr Kitly Gallery, Melbourne
An Exhibition of spoons at

Mr Kitly

by

Anna Varendorff

and Eugene Howard. This project rejoiced in the simplicity and pleasure in the design of the 'spoon', examining the process of bringing a functional designed object into being and the threshold at which the spoon acquires its 'spooness'. Spoons by Anna Varendorff made from silver tailings leftover from her sculpture and jewellery practice, and Blackwood (Acacia Melanoxylon) spoons made by Eugene Howard from wood gifted to his family from a farm in Gippsland. Installed on a table with carved indentations the shape of each spoon, leaving the 'impression' of the spoon in the table as the spoons were taken over the duration of the exhibition.

Assemble Papers Article:

http://assemblepapers.com.au/2015/02/26/fallen-wood-sabi-spoons-eugene-howard/

A small number of spoons are stocked at

Mr Kitly.



Location: Mr Kitly Gallery
Melbourne, VIC
Year(s): 2013
Participating artists: Anna Varendnorrf and Eugene Howard
Status: Completed
Team: Co-conceived by Eugene Howard and Kate Hill
Media: Blackwood (Acacia Melanoxylon) spoons
Drawings: Oslo Davis
Documentation: Christo Crocker
---
2012
Following the river upstream from home

Counihan Gallery, Victoria
A series of watercolour paintings made on site, following Birrarung (Yarra river) upstream from where I grew up in North Warrandyte. These works look at the diverse ecologies of the river upstream from where I grew up.

Location: Upper Birrarung (Yarra) River, Yarra Valley, Christmas Hills, Kangaroo Ground, Warrandyte
Participating artists: Kate HIll, Craig Burgess, Luke Beesley, Sarah Moore
Media: Watercolour and Gouache on journal paper
Exhibition: My River curated by Anna Topalido at Counihan Gallery, Melbourne
Supported by: Melbourne Water, Moreland City Council
Publication contributors: Michael Leunig, Michael Farrell, Kate Middleton, Trish Grant (see full publication here)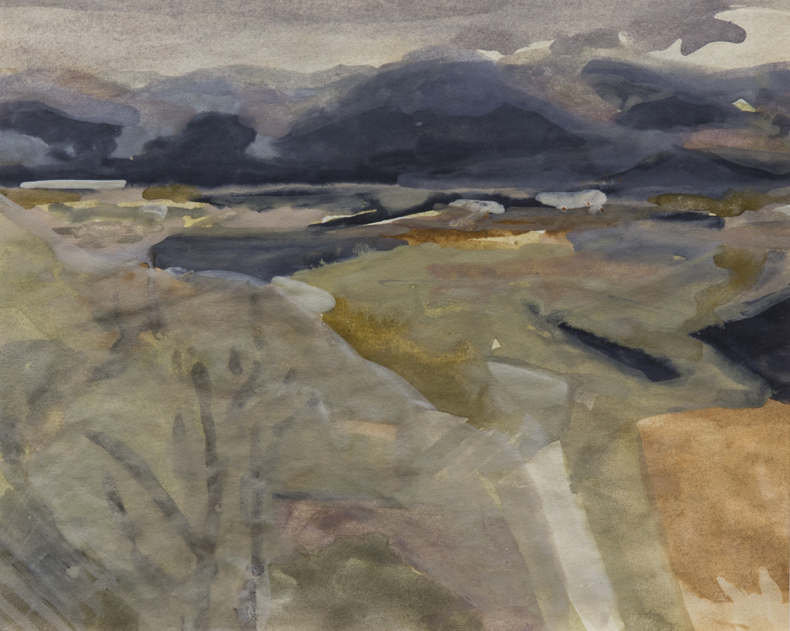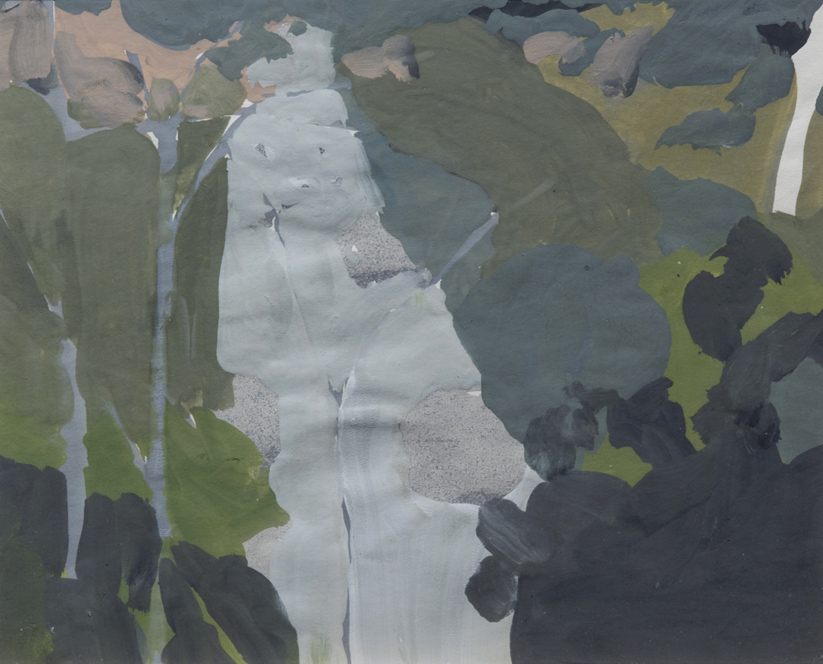 ---


2012



Garambi Baan (Laughing Waters)
A series of large-scale watercolour paintings made outside along Laughing Waters road, Eltham, during a two month residency at the Laughing Waters Artist in Residence (NIllumbik Council/Parks Victoria) in 2012.

These works look at the unique architecture and landscape design of Gordon Ford and Alistair Knox, examining their relation to Nillumbik's environment and the temporal quality of the materials used.

Media: Watercolour, gouache house paint and natural pigments on paper
Supported by: Parks Victoria, Nillumbik Shire Council
Artsts: Carolyn Eskdale, Greg Creek, John Nixon, Kate Hill and more
Exhibition: Accompanying the launch of Jane Woollard's book on Laughing Waters Road
Year: 2016
NB: some of these works now form part of the Maroondah City Council art collection and can be publicly viewed.